No Age: "My Life's Alright Without You"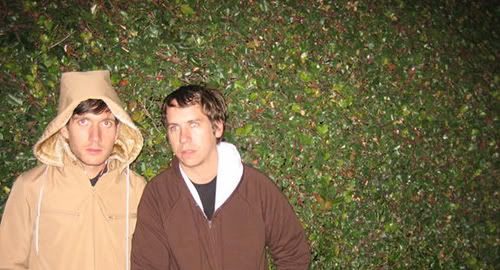 Dean Spunt and Randy Randall are No Age. They're rad.
When i went to order my Abe Vigoda 7" from
Post Present Medium
a month or two or so ago I saw another 7" from another LA band by the name of
No Age
. Next Day I looked them up on myspace, and I've loved them ever since. They're crazy dudes, and they seemed to never stop releasing music this year. Since the first of the year they've released 4 EPs and 1 single – all of which combine (mostly) to form the
FatCat
-released full-length,
Weirdo Rippers
.
Weirdo Rippers
dances the line between noisy garage pop and just plain noise; sometimes standing clearly on one side or the other, and other times just straddling the damn thing, some songs seem almost split exactly down the middle. Let me note, though, that is in no way a flaw, it's a gift, it's one of the finest noisepop gifts I've been given all year. Check out some songs, and rock them out, really really loud.
[MP3]:
No Age :: My Life's Alright Without You
(Highly Rec'd!)
[MP3]:
No Age :: Every Artist Needs A Tragedy
(Highly Rec'd!)
Pick up Weirdo Rippers from FatCat Records
.
No Age on MySpace!

Stumble It!