Tullycraft: "The Neutron"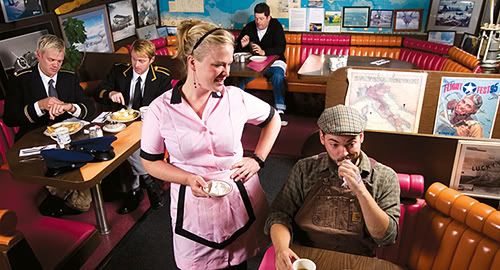 Tullycraft!!!
I'm still waiting on a few more records that are supposed to see the light of day this year, but good luck to them, because it's gonna pretty hard to top
Tullycraft
's new harmony-soaked, behemoth of an indiepop record. From beginning to end,
Every Scene Needs A Center
is ridiculously infectious. It only takes only one listen to get any given song stuck in your head, and that's always been Tullycraft's true gift. The gift of the incredible pop hook, typically (though not always) backed with an undeniable two to five part vocal harmony, no doubt stuck in the most perfect spot imaginable. Oddly enough, it's for that very reason that Tullycraft seems to push away possible fans. For reasons I myself will never understand, some people just refuse to feel that much joy rush through their body at one time; and no song on the new record bring me more of that joy than the utterly brilliant "The Neutron." I mean, I don't even know what to say about that chorus, other than "THANK YOU!" Pop song of the year? Who knows yet. It's definitely among the best.
[MP3]:
Tullycraft :: The Neutron
(More recommended than most everything!)
Every Scene Needs A Center
is out October 23 on
Magic Marker Records
and hearing it will make your life
at least
79% better, guaranteed. The record release show is on October 18 at the Crocodile in Seattle, WA with the Math and Physics Club and Patience Please. If you're anywhere kind of near there, you better show up!
Tullycraft on MySpace!
Labels: Magic Marker, Tullycraft

Stumble It!