New Liechtenstein single on the way!!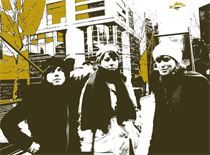 Hooray! Rejoice! There's a new
Liechtenstein
7" on the way! It'll be out on
Fraction Discs
in May and the new single is streaming on their MySpace right now. It's called "Apathy" and it's amazing. As one would expect the harmonies are gorgeous and the vocal melody is really,
really
infectious. Perhaps more so than "Cravings" – and that's saying quite a lot cause I can't even remember how long I hummed that song last year. Oh, and it's also a bit sadder and slow-going than anything else I've heard by them as of yet, too, which I think suites them real well, especially when the overlapping vocal outro comes in... aw man, so so good!
Go listen to "Apathy"!
Like, seriously.
P.S. For anyone in germany, the girls will be playing a show in Dresden, saturday, May 17th!
Labels: Fraction Discs, Germany, Liechtenstein

Stumble It!