New Postal Blue EP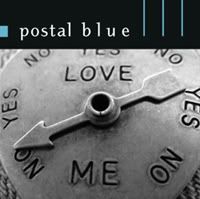 It's been somewhere around two years since I last mentioned
Postal Blue
on this blog, a little bit after their "Road to Happiness" EP was released on Humblebee. Well, after a long wait, they – well,
HE
– is finally back! Downsizing the band member count to just one, Postal Blue is now the work of one Adriano Ribeiro – and he's got a new EP out now on Cloudberry Records. Now partially gone are the deadpan jangly Belle and Sebastian comparisons and instead we're greeted by humming organs and synths paired with ringing guitar and speedy programmed snares. Have a listen to "You Should Keep it to Youself"!
[MP3]:
Postal Blue :: You Should Keep it to Yourself
Go order the EP from Cloudberry!!
Postal Blue on MySpace!
P.S.
The Tartans' Cloudberry 7" showed up a few days ago and I haven't been able to keep it off the record player or out of my ears. I would verrrrry highly recommend grabbing one up before they're gone!!!
Labels: Cloudberry, Postal Blue, The Tartans

Stumble It!