You're Alight!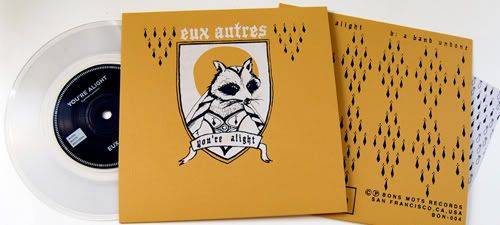 The sleeve looks good enough to eat.
Eux Autres
are back with a new single, out June 2nd on
Bons Mots Records
! "You're Alight" b/w "A Band Undone" is the bands first release featuring new members Yoshi Nakamoto (Aislers Set, Still Flyin') and multi-instrumentalist Nevada Jones (not to be confused with multi-adventurist Indiana Jones) and it's sure to be a winner. The rad artwork and design are courtesy of San Francisco's
Yellow Owl Workshop
and might I say, they really outdid themselves! That orange paper looks a lot like this French paper that I used on something earlier this semester, good choice! Anyway, if I were you, I'd get to ordering it right away because there's only 250 copies to go around. Did I also mention that the first 50 orders get a sweet Eux Autres lapel pin?! I'm not typically one for wearing lapel pins, but I feel like I really need one of those.
You can preorder over at Bons Mots Records for $5!
Unfamiliar with Eux Autres? Get familiar!
[MP3]:
Eux Autres :: Other Girls
••••••••••••••••••••••••••••
ALSO!
This Sunday in Baltimore, MD! Be there or be square, dudes.
Labels: Bons Mots Records, Eux Autres

Stumble It!