The Cats and Dogs are getting along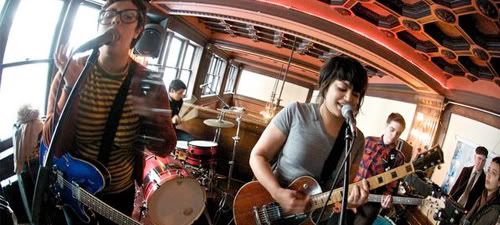 Sourpatch at SF Popfest (photo by Steve Louie)
Sourpatch
have a new four-song EP out! YES! It's part of
WIAIWYA's monthly singles club!
Somehow I neglected to notice this at all between July and now, but better late than never I suppose. I had the
Fun
EP blasting during a chilly walk up to the city yesterday, which seemed like the perfect setting for it, and I think I've really fallen in love with them! It's an utter shame there aren't more bands of the moment that recall this kind of early 90s punky pop K sound – but then I guess that's what makes Sourpatch so special to me, so I guess I can live with that. My only complaint of these songs is that the guitars are pretty low in the mix. I don't know if it was intentional, but I'd really love to have them in my face a little bit more. Regardless, Sourpatch should be everyone's new favorite band! If you don't believe me, take a listen to "Fun" – it's such a perfect blast of, well, fun!
[MP3]:
Sourpatch :: Fun
(Wayyyy Recommended!!!)
Sourpatch's debut LP will be out soon on
Happy Happy Birthday To Me!
Yay!
Sourpatch on MySpace!
Labels: Happy Happy Birthday To Me, Sourpatch, WIAIWYA

Stumble It!