Introverted Romance in our Troubled Minds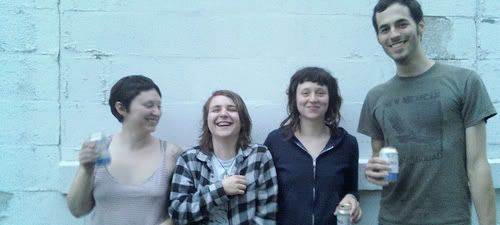 P.S. Eliot
I was first introduced to the Alabama four-piece
P.S. Eliot
via the awesome DC blog
I Could Die Tomorrow
sometime around the beginning of this year. I downloaded their demo and played it nonstop and was dying to hear an actual release for months and months. P.S. Eliot's brand of mostly fast, noisy, female-fronted pop/punk did everything I didn't even know I was dying for then. They eventually drifted out of my mind a little bit, but just a few days ago I found out that they've released their debut LP!
Introverted Romance in our Troubled Minds
is out now care of
Salinas Records
and though it sounds like their recordings have lost a good bit of fuzz I loved, the songwriting is still way above the bar and I'd be lying if I said it hasn't already become one of my most favorite records of the year. New songs "Tennessee" and "Sore Subject" prove the band are still writing killer songs, but "Tonight", which appeared in much noisier form on their demo, is the current highpoint for me. In terms of a simple reference, I'd say in girls and guy of P.S. Eliot were born a little earlier they would have been welcomed with open arms by a certain Jenny Toomey and Kristin Thomson in the early 90s. If you love the song – and you will! –
go grab the LP from Salinas!
It's only $7.50!
[MP3]:
P.S. Eliot :: Tonight
(Soooo Recommended!!!)
P.S. Eliot on MySpace!
Labels: P.S. Eliot, Salinas Records

Stumble It!