Baby Calendar: "Traffic In The Tropics"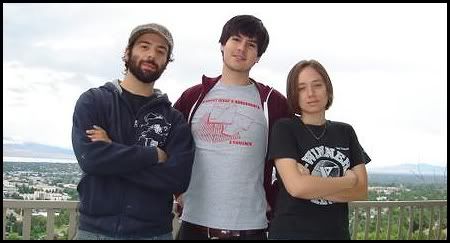 2006 has been a big year so far for
Baby Calendar
. Formerly of Miami, Florida the band made a move this year to indie pop mecca Athens, Georgia and released an album on Athens' own
Happy Happy Birthday To Me Records
. The new record,
Gingerbread Dog
(the band's third, but first on HHBTM), finds Tom Gorrio, Jackie Biver, and Arik Dayan working through eleven tracks of heavily melodic and exciting pop songs with undeniablely cute back and forth boy/girl vocals. In accordance with my recent cute pop music binge I've been listening to this song all day long and I'd highly suggest it to fans of Rainer Maria, The Brunettes, Rilo Kiley, et al.
[MP3]:
Baby Calendar :: Traffic in the Tropics
Whenever I describe songs on here, I try to mostly lean away from delving into the titles and lyrics because I'm not that not very good at analyzation in that sense and I don't pretend to be. That being said, I think it's fairly obvious that "Traffic in the Tropics" is about Miami, or more specifically, their move from Miami to Athens. Now, I could be wrong, but I think I'm right. Okay well, anyway, there's a funny thing about this song because unlike, well just about every other song I like, I happen to like this song's verses more than it's choruses. The whole "boy says something, girl finishes his thought" thing they've got going on is a tactic that I'm ecstatically fascinated by.
Buy

Gingerbread Dog from Happy Happy Birthday To Me records for $10!
The band's got a couple more dates lined up for July and then they'll be playing
Athens Popfest 2006
presented by
HHBTM
in August.
July 4
Goldsoboro, NC @ Jesusy House
July 10
Bloomington, IN @ Plan-It-X Fest
August 12
Athens, GA @ Athens Popfest
Baby Calendar on MySpace

Stumble It!