Mother: "Polynesia"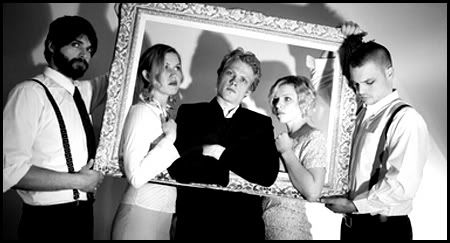 The Vancouver band
Mother
independently released their debut album last year and as far as I can tell, it went almost completely unnoticed, but I recently got to hear it and I have no idea how this band hasn't exploded yet. Influenced apparently by such diverse bands as Pixies and the Beatles, the most recent and closest comparison I can think of would be something along the lines of the new Danielson record but with more of compacted sound. A national release of their self-titled debut is expected by the end of the year so keep your eyes peeled for that, but for now, listen to this song and then buy the album from their website
here
.
[MP3]:
Mother :: Polynesia
The song opens with sharp acoustic guitar that is soon joined by drums and Deerhoof-y female vocals harmonizing back and forth singing some of those most ridiculous and melodic lyrics I've heard in while:
"We're in a ship and we are sailing by, all of the fish and all the octopi, we look them right into their octopi eye, eye eye eyes."
That opening line there just might be the single catchiest lyric I have yet to hear this year. Although, it didn't come out this year, this song could easily fly past Peter Bjorn and John's "Young Folks" and become my favorite song of the year, just listen once and you'll understand why I'm hyping it up so much.
Mother on MySpace

Stumble It!