Happy Happy Fourth of July!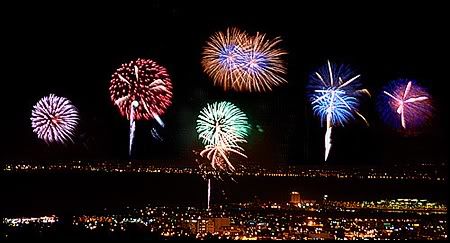 it's fourth of July folks and since I'll be too busy eating hot dogs, sweating and lighting things on fire that I typically wouldn't be lighting on fire, this is gonna the only post today. So, please enjoy this lovely mix of songs that I'll be blasting all day. Not really fourth of July themed but, just a bunch of fun summer songs. Happy Fourth of July, guys! I'll be back tomorrow.
[MP3]:
The Polyphonic Spree :: Light and Day
[MP3]:
The New Pornographers :: All For Swinging You Around
[MP3]:
The Apples In Stereo :: Tidal Wave
[MP3]:
Beulah :: Silver Lining
[MP3]:
Emperor X :: Shut Shut Up
[Mp3]:
Of Montreal :: This Party's Crashing Us
Last year me and a few friends went to my uncle's house and drove one of his old cars through the massive stretch of woods on his property. we drove it through people's backyard's and through cornfields until ultimately crashing it into a tree. My uncle eventually came down in his underwear on a ride-on lawnmower to rescue us and then we made ice cream with liquid nitrogen. Anyone else got any out-of-the-ordinary fourth of July stories?

Stumble It!