Ramona Cordova: "Giver's Reply"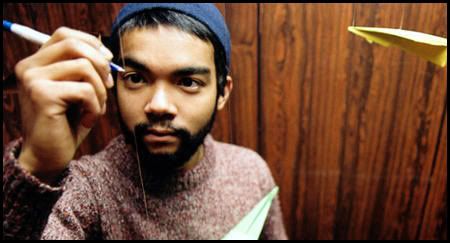 I had the treat of recieving nothing but awesome music this past week and among the many others,
Ramona Cordova
's
The Boy Who Floated Freely
has got to be one of my favorites. Listening to this album all the way through is an experience not to be missed. Ramona's MySpace say's he sounds like "a fairytale." That couldn't be more spot-on, his music picks you up out of your seat and tosses you back to your childhood where everyone is smiling and you havent got a care in the world except for swaying to the melodies.
The Boy Who Floated Freely
came out last year in the U.S. on
ECA Records
and this year in Europe on the
Clapping Music
label. So go buy it, if you haven't already, cause yknow, it's fantastic. Here's my favorite track from the album.
[MP3]:
Ramona Cordova :: Giver's Reply
(Highly Recommended!!!)
I believe I've mentioned about 100 times now how much I love organ, right? Well, it's because I really do and this song utilizes it perfectly. In fact, most of the song is bare organ and Ramona's deliciously smooth vocals. After the soothing organ gets you all warm and comfortable, he whips out a drum and pots and pans beat out of nowhere and you're like, "Whoa! This is awesome." At least, that's what happened to me.
Ramona Cordova on MySpace
Related:
If you've got time, check out these videos of Ramona on YouTube, they're amazing!
one
two

Stumble It!