Major Organ And The Adding Machine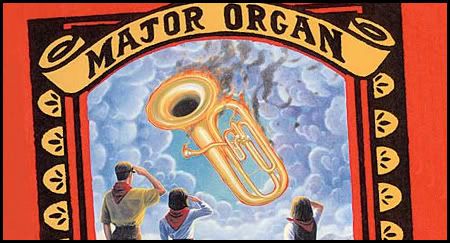 I've had this for a while and revisit it every now and then, and I never fail to find something new that I missed on the previous listen. Unless you have atleast some sort of an
Elephant 6
obsession then there's a good chance you've never heard of this album before. Major Organ and the Adding Machine was released back in June of 2001 on
Orange Twin Records
, they originally gave this description of the album.
"The major is a sound poet, instrument builder and complete freak with his teeth out, talking alchemy and eggplants to a dog. the elephant six orchestra is the adding machine, interpreting the majors "compositions" and instructions to create a world of beards vomiting and birthing. please note: this is not neutral milk hotel under another name. this is aunt eggma under the name major organ under the name the elephant six orchestra who all are under the name alfred snouts. alfred snouts is the twin attached to the major, so really this would be a major organ album under the name of no one!"
So, while the infamous "Major Organ" is still a mystery, the confirmed contributors include E6 members such as:
Kevin Barnes
(Of Montreal),
Jeff Mangum
( Neutral Milk Hotel),
Julian Koster
(Music Tapes, Neutral Milk Hotel),
Eric Harris
(Olivia Tremor Control),
Will Cullen Hart
(The Circulatory System, The Olivia Tremor Control),
Andrew Rieger
(Elf Power).
The album is unmistakably "E6," that's for sure. But those expecting a whole bunch of pop songs are not gonna find too many here. I enjoy this album for what it is, but realistically, there are only a few songs that you'll even remember listening to. That being said, here are my two favorite songs from the album. Save for a few others, these are the only actual "songs" on the entire album. Both tracks are highly recommended for fans of anything E6 or lo-fi pop in general.
[MP3]:
Major Organ and the Adding Machine :: His Mister's Pet Whistles
This song is, for lack of a better description, a "catchy mess." There's layered and distorted keyboards flying all over the places and percussion that soundsmore like banging on trashcans than actual drums. There's a really solid hook buried under all of this mess, and you'll know exactly what I'm talking about as soon as that fuzzed out guitar joins in.
[MP3]:
Major Organ and the Adding Machine :: Madam Truffle
As with "His Mister's Pet Whistles," I'm quite sure this song also features Kevin Barnes from Of Montreal on lead vocals. Fittingly enough, this song also sounds like it would fit pretty well somewhere on the second half of
Cherry Peel
by Of Montreal. Unlike the previous song, this one is a bit more organized and mostly relies on a catchy piano melody. But don't fret, there's still buzzing feedback and ringing telephones every now and then.
Buy

Major Organ and the Adding Machine from Orange Twin
and while you're at it, they have
some pretty awesome shirts for sale too

Stumble It!