Matthew Friedberger: "Ruth Versus Richard"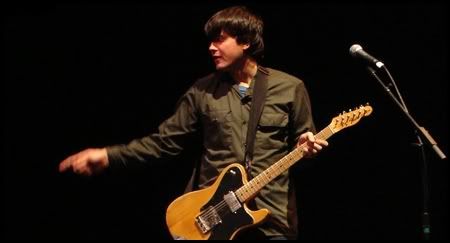 I couldn't even begin to describe how on the fence I am concerning the solo work of
Matthew Friedberger
of
The Fiery Furnaces
. It must be noted that The Fiery Furnaces are a band that I hold very dear to my heart. I cherish every second of music they've created together, I even more than moderately enjoyed
Rehearsing My Choir
. Now, I'm not foolish enough to lead myself to believe that Matthew isn't the main creative genious behind my precious Fiery Furnaces, but the thought of him doing it on his own, however gloriously wonderful and catchy it may be, just doesn't sit well with me.
Even after making two or three rounds through
Winter Woman
, I still kept waiting for Elenor's vocals to come in on almost every song. Obviously they never did, and word on the street is that it doesn't matter, but it is that really the case? Is Elenor really not a neccesity in enjoying the music of her brother? I still honestly don't know, there's only only one version of
Winter Woman
, and that version is sans-Elenor and no one will ever really know whether she would have helped or hindered the record. All one can really say, without dragging this out too far is that this album is definite success. Whether is could've been more successful, who knows. One thing I do know though, is that this song is awesome.
[MP3]:
Matthew Friedberger :: Ruth Versus Richard
(Highly Recommended)
There are solid songs that appear before "Ruth Versus Richard" on the album, but on my first listen through, this song hit me like a brick. It's also one of the few songs on the album where I wasn't questioning the lack of Elenor's vocals. As you may find, and the Hype Machine might prove, this is probably the album's catchiest and most successful moment, with Matt Friedberger leaving behind his desire to screw with our senses and just give us exceptionally poppy treat complete with synth strings. I
really
love synth strings,
really
.
As you may have noticed
, I didn't address
Holy Ghost Language School
at all. This is because I've only given it one decent listen through and I still have nothing to really say about it, other than what anyone else might say and plus, I enjoy
Winter Woman
a lot more.
Winter Woman/Holy Ghost Language School
will be released by
859 Recordings
on August 8th.

Stumble It!