Yeah, I Know I'm Late On Headlights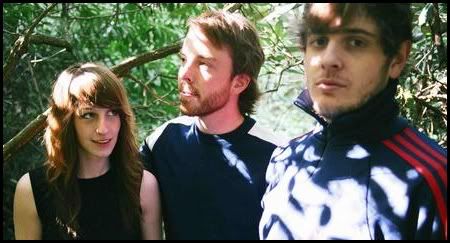 How come no one told me how awesome this band was?! I heard about
Headlights
a few months ago when I found out that were releasing a split 7" with Skatterbrain favorites
The Most Serene Republic
, but like a fool I neglected to check them out. Now, because of my foolish decision, I'm likely the very last blogger to be mentioning them. Incidentally, headlights have more in common with The Most Serene Republic than just releasing a split together. Headlights have got a good solid hold on that dreamy noise pop sound that I've come to know and love from The Most Serene Republic, but without the challenging time signatures and songwriting that makes some people shy away from the Canadian 7-piece. Their debut LP Kill Them With Kindness will be released on
Polyvinyl Records
on August 22nd. Also, I would like to take this moment to acknowledge that lead singer Erin Fein is in fact one of the one most beautiful women in indie rock.
[MP3]:
Headlights :: Put Us Back Together Right
(Highly Recommended!)
"Put Us Back Together Right" was the track that appeared on the split with TMSR and it also happens to be my favorite song by them. Anyone who's been reading for at least a month should know by now that I am a huge fan of dramatic build ups, and it's even better when said build up includes a piano. After about 30 seonds or so a galloping drum roll comes and scoops up the piano, just before it's joined burning atmospheric guitar ala-My Bloody Valentine and the previously mention band. If you haven't already heard this, then I guarantee after one listen through the "Take us apart and put us back together right" part will definitely be stuck in your head for a while.
Headlights on MySpace!
Elsewheres:
Matt's got Mates of State covering one of my most hated songs of the year
, and it almost makes me actually like the song. I love Gnarls' promotional photos, but I just can't find a way to get into their songs.
Matt has also compiled his favorite EPs of 2006 so far
, how hardcore of him.
I just recently started reading
Nothing But Green Lights
and it's quickly becoming one of my favorite blogs out there. If you're not already a fan, take this moment to pop over and give it a look see.
My man Brad just recently started up
a blog of his own
and is already killing it. Head over and check out his "Songs with 'OoOoh' choruses" mix featuring my favorites The Lovely Feathers, The Grates and more.
Hahahaha.
"What started somewhere in Boston, MA with only a few secret dancing agents is now a larger than life dance extravaganza. A clandestine group called the Super Secret Dance Society is teaching hipsters how to get down, one silly move at a time. While details are obscure due to the secrecy of the community,
SPIN.com
did manage to receive this video documenting SSDS's first official mission, aptly titled Operation Panther Storm, part of the clandestine group's 'viral plague of joy.'"
If you feel like you really need to, you can watch the video
here
and read the rest of the article
here
.

Stumble It!