Tapes 'N Tapes @ Pitchfork 7.30.06
As you can probably already tell, I wont be posting these in any order, seeing as
Tapes 'n Tapes
opened the second day and not the first. Anyway, after going into their set with lukewarm expectations I was more than blown away and they ended up being the perfect opening to probably one of the best days in music in a long while.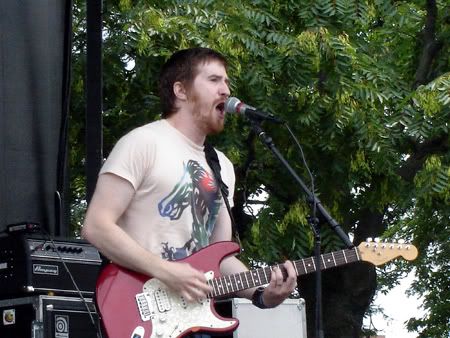 They rolled through favorites "Cowbell" and an incredible performance of "10 Gallon Ascots"(see
last photo
) early on but never played my personal favorite "Omaha," which kind of sucked, but considering the super high energy they had throughout their entire set, I couldn't really complain.
[MP3]:
Tapes 'n Tapes :: Omaha
Elsewhere:
Go check out
Matt's awesome Man Man photos
. He told me they would be awesome and he was definitely not exaggerating.

Stumble It!