The Lucksmiths: Adolescent Song Of Mindless Devotion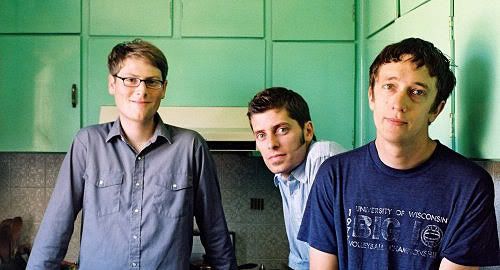 Mark, Tali, and Marty of The Lucksmiths
I'm not too sure when
The Lucksmiths
'
First Tape
actually came out as a "tape", but the cd version came out back in 1993 on
Candle Records
, and I got around to hearing it for the first time this weekend and it just so happens to hold some serious pop gems. This song in particular might just be my new favorite Lucksmiths track ever.
[MP3]:
The Lucksmiths :: Adolescent Song Of Mindless Devotion
(Recommended A lot!)
Marty has consistently been becoming one of my favorite songwriters out there, and the more and more I hear, the more I love him (in a totally platonic way, of course). His lyrics alway seem to have this clever wit about them, while also staying sincere in his own sort of way. "I'll change my name to Matthew / leave a welcome mat on your floor / I don't know what five." The simple inclusion of the word "five" there is a perfect example of that wit, while he goes to sing one of of the cutest choruses ever sung.
Your best bet would probably be checking out
Ebay
if you're looking to pick up a copy of this, but for other Lucksmiths releases, check out
Matinee Records
or Candle Records.
The Lucksmiths on MySpace!

Stumble It!