The Specific Heats: "Carl Sagan"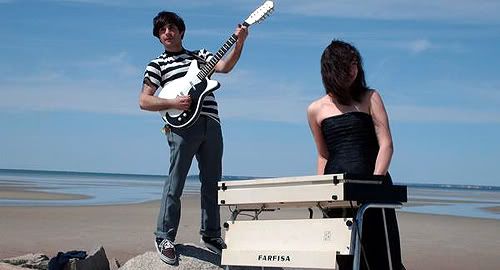 Mat and Jen of The Specific Heats (Keira not pictured)
You may remember a post I did on
The Specific Heats
quite a while ago before the new record came out. Well, the new record Aboard A Spaceship Of The Imagination has been out for over a month now and I guess I feel like talking about it again. Originally from Boston, but now relocated to Brooklyn, The Specific Heats make fun pop music influenced both by psych and surf rock. The album's closer(aside from the instrumental "Epilogue"), "Carl Sagan," is one of the best pop songs I've heard in a while, check it out below.
[MP3]:
The Specific Heats :: Carl Sagan
(Highly Recommended!)
I really have a soft spot for "Carl Sagan" because as I've made very clear before, I love the organ, particularly in pop songs. I'm not really sure why, but that sound paired with the jangle of indie pop-style guitar is just complete bliss to me. This album features many friends of the band on many of the tracks including this one, with Marisa of Skatterbrain favs
The Besties
sharing vocal duties with Mat. At around the 3:20 mark however, the song drops of leaving Mat's guitar all alone until one by one the drums and organ rejoin building up into a wash of sound and then ending again leaving just guitar to ride out the end of the song.
Check out
a live video of "Carl Sagan" from Athens Popfest '06 featuring Marisa,
here
.
Aboard A Spaceship Of The Imagination
was released in August on
Total Gaylord Records
.
You can pick it up from their store for $10
The Specific Heats on MySpace

Stumble It!