Rescue: "Breaking My Own Heart"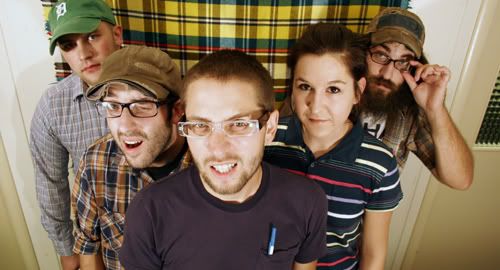 Rescue demonstrate the ice hockey play made famous by The Mighty Ducks
Hailing from Detroit, the violin toting five piece known as
Rescue
have finally found a temporary home for their debut record,
Paranoid
. Though they're not "officially" releasing the album, Michigan's
Suburban Sprawl Music
will be doing a limited edition pressing of
Paranoid
which will all be hand-numbered. Rescue play very dense songs with dashes of psychadelia, male/female harmonies, and complex instrumental breakdowns scattered about. There is currently no solid date on when Paranoid will see a release, but when that time comes you'll be able to pick it up from
Suburban Sprawl Music
or at a show. Speaking of shows, look below the
MP3
for October dates with Skatterbrain favs
Thunderbirds Are Now!
[MP3]:
Rescue :: Breaking My Own Heart
(Recommended!)
The song opens, full band, in an almost wall of sound dirge led mostly by a fiercly stomping piano. About halfway through the song, the instruments take a step back, allowing a small choir of voices to singing together "until you forget" over and over. Following a short break comes a distorted guitar solo, a spastic synth freakout, a drum breakdown, and then, finally, you get a chance to breathe.
I can only imagine that a show with these guys and Thunderbirds Are Now! has like, a 200% chance of breaking into one gigantic dance party. Make sure you don't miss the party.
The Dates
(supporting TAN!)
:
10/18 Omaha, NB @ Sokol Underground
10/19 Kansas City, MO @ The Record Bar
10/20 Denton, TX @ Hailey's
10/21 Austin, TX @ Emo's
10/22 Houston, TX @ Walters
10/23 New Orleans, LA @ One Eyed Jacks
10/24 Baton Rouge, LA @ Spanish Moon
10/25 Tallahassee, FL @ Beta Bar
10/26 Orlando, FL @ Firestone
10/27 Gainesville, FL @ Abbey Road as a part of The Fest V
10/28 Atlanta, GA @ Drunken Unicorn
10/29 Chapel Hill, NC @ Local 506
10/30 Baltimore, MD @ Ottobar
10/31 Philadelphia, PA @ The Northstar Bar
11/4 Boston, MA @ TT the Bear's
11/5 Montreal, PQ @ Main Hall
11/6 Toronto, ONT @ Sneaky Dee's
11/7 Bowling Green, OH @ Howard's Club H
11/8 Cleveland, OH @ The Spot at Case Western University
*All dates with
Thunderbirds Are Now!
Rescue on MySpace

Stumble It!