The Royal Court Of Twee: The Final Vote
The Final Vote!
First Off I'd just like to say I was pretty blown away by the amount of response (both good and bad) that this project has gotten so far. I had tons of nominations to tally, but I eventually got through them all. The next step is, obviously, the
FINAL VOTE
. Please choose a total of
FIVE
bands from the ballot below and post them in the comments. After tallying the final votes, the top ten bands will be crowned the
Royal Court Of Twee
next Monday! Again, thanks for nominating before, and thanks for voting now!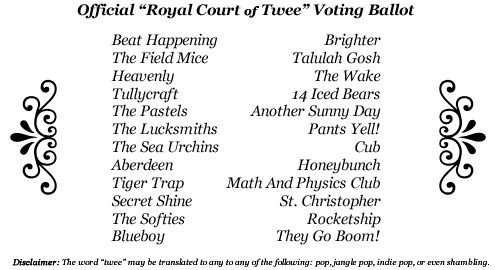 Feel free to discuss, argue, or fight in the comments. Just don't get blood on anything.
ALSO:
Never seen this before, but
this post
on the supposedly defunct blog,
Yarn and Glue
, describes "twee" perfectly, at least in the way that I percieve it. You may want to check it out if you're feeling a bit confused. Thank you Marta!

Stumble It!