The Big Gun: "Heard About Love"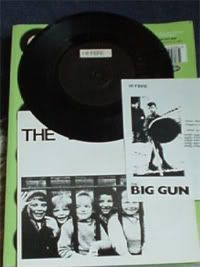 "My band was called the Big Gun, and all the members were about 17. We saved up and recorded a single and sent it to John Peel, who played it four times on his night-time show, after which we were described in the NME as "the sort of band that made England great". We then played a few gigs in the South and promptly split up.

But the thing I'll never forget is the night Peel played the song: all of us huddled round a stereo in Andy Crone's bedroom, each with the same haircut and the same shoes, biting our nails and passing a cigarette as we waited for Peel to come on. We had been told he was planning to play the song that night. Heard About Love it was called. We waited. And then, it came: 'Here we have it,' said Peel, 'from Ayrshire, melody coming all unheralded into the programme.'

We had made it. We were good. There was nothing else to be achieved with the Big Gun, which was just as well, seeing as Keith and Andy and the rest of us only really had one song. It reappeared the other month on a German compilation album called (bizarrely, for us) The Sound of Leamington Spa."
This might just be the best pop song you might have never heard before, and I'd like to share it with you. The single was originally released on Hi-Fibre in 1987, and seriously, this song is every single part of the bee, and it makes me smile everytime I listen to it. The excerpt above comes from an
article on John Peel from the Telegraph
, and it pretty much tells you everything you need to know about The Big Gun, and their song, "Heard About Love."
[MP3]:
The Big Gun :: Heard About Love
P.S.
If you're not singing "Let's hear it, love, let's hear it for love!" over and over for the rest of the week then you are just dead inside, or something... something
real
bad!
Labels: 1987, Hi-Fibre, Hotness, John Peel, The Big Gun

Stumble It!