Road to the 2007 NYC Popfest: The Baskervilles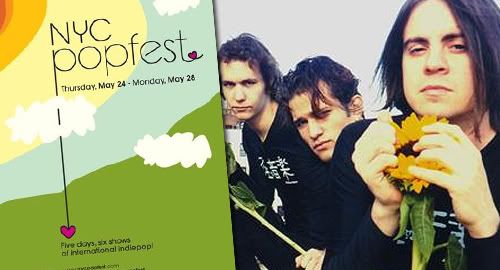 New York's Baskervilles!
Incase you haven't been paying close attention, I am
STILL
on the Bs in the alphabetical Popfest extravaganza. I last covered The Ballet, and if I'm doing this right we should be moving right on ahead to New York's very own,
The Baskervilles
. Like The Ballet, I hardly know a thing about The Baskervilles. Their
MySpace
lists influences from the Television Personalities to Dolly Mixture to Johnathan Richman, so at least you can be sure they're working off a pretty solid foundation. Mostly I just hear a pretty strong TVPs sound to the songs that I've listened to so far, which is miles away from a complaint, infact I'm pleased as punch to have finally heard these guys. OMG RUN-ON SENTENCE LOCK ME UP/.
They're currently doing this thing called the
Twilight 14
where they are releasing a free MP3 (all produced by Mitch Easter) on
their website
with virtual sleeves designed by a different contemporary artist each month, and well, it's a pretty awesome idea. Download April's single and don't forget they'll be playing the Popfest
May 25th at The Delancey
with Mitch Easter, The Secret History, and The Smittens!
[MP3]:
The Baskervilles :: Have You Seen Them?
(follow the link)
-----------------------------------------------------------
The 2007 NYC Popfest on MySpace
Super Mega 2007 NYC Popfest post with dates and lineups
Labels: 2007 NYC Popfest, Mitch Easter, The Baskervilles

Stumble It!