The Lodger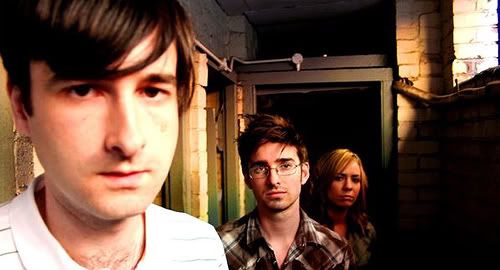 The Lodger
The release of The Lodger's LP
Grown-Ups
not only marks the full-lenth debut from the Leeds-based indiepoppers, but it's also the first full-length record Slumberland has put out since the Aislers'
How I Learned To Write Backwards
back in 2003 -- almost four years ago! Needless to say, I'm pretty excited on both accounts!
Grown-Ups
is a super-solid record from start to finish, every track oozing with that great 80s-inspired jangle pop they've been perfecting for the past couple years. Now, Vocalist/Guitarist Ben may be no David Gedge, and The Lodger may be Wedding Present, but they've got that rare gift of being immediately catchy without even trying and you really can't ask for from a pop band. It took me a while to decide my favorite moment from
Grown-Ups
, but I'd have to say that at the moment I'm pretty in love with "Watching". Give it a listen.
[MP3]:
The Lodger :: Watching
(Very Highly Recommended!!)
Grown-Ups
is out now on
Slumberland Records
in the U.S. and on
Angular
in the UK, but you can only get the vinyl from Slumberland. If you're like me you'll want this on vinyl,
so go do it!
Be The Lodger's friend on MySpace!
Labels: Angular, Slumberland, The Lodger, The Wedding Present

Stumble It!