The Slightly Premature "Fall is Here!" Mix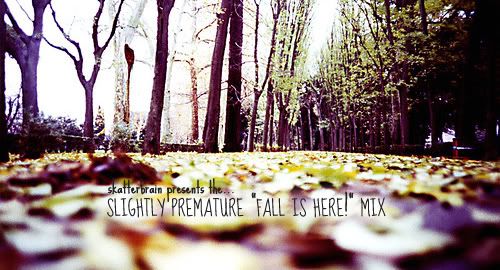 I'm in love with chilly weather and I don't care who knows it!
The title pretty much says it all, guys. I got my first breath of brisk Fall air today and I was ecstatic. I love more than anything in the world, I've been waiting months for it and I'm sure I'm not the only one. So that's why I made this mix. It's the essence of Fall, it's got lows and highs, acoustic guitars and fuzzy electric ones, boy voices and girl voices, it's pumpkin pie and a wool scarf in musical form, it's the sound of wonder and amazement, and it's early!
DOWNLOAD IT!
As always, this mix is lovingly tagged as a compilation, complete with artwork similar to the image above. I think it's wonderful and I hope you do, too.
[ZIP]:
The Slightly Premature "Fall Is Here!" Mix
(27mb, 10 MP3s)
TRACKLIST:
A1. Times New Viking :: Teenage Lust!
A2. Bratmobile :: Gimme Brains
A3. Tiger Trap :: Sour Grass
A4. Pants Yell! :: The City Life
A5. Math and Physics Club :: White and Grey
B1. Allen Clapp :: Milky Way
B2. The Lil' Hospital :: Big Sister In Hollywood
B3. Heavenly :: Different Day
B4. Junebug :: Farewell To Emma
B5. Gaze :: Bob Again
Please enjoy!

Stumble It!