Moscow Olympics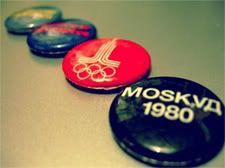 Just a quick post real quick before I run off to class, but I just had to mention this! Sweden's
Fraction Discs
label has just announced they will be releasing the debut 7" from the very excellent Philippine dreampop band
Moscow Olympics
! Moscow Olympics take the swirling, ringing guitars of late 80s shoegaze and mix it with the sweet melodies of Sarah Records-era indiepop, creating a fantastic dreampop sound that you would swear Bobby Wratten had a hand in. The single will feature the amazing track, "Still" on the a-side and previously unheard track, "Talk Like This" on the b-side. I've never mentioned the band before because I've got no songs to post for you, but I urge you to go over their myspace and listen to the demos they have up. Then I think you'll realize why I'm so excited!
Listen to Moscow Olympics on MySpace!
Labels: Fraction Discs, Moscow Olympics

Stumble It!