The Smittens/Just Joans Split 7"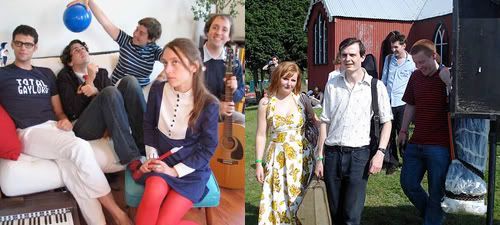 The Smittens and The Just Joans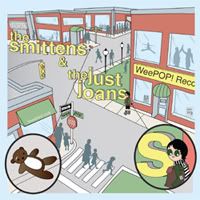 The newest 7" release from
WeePOP! Records
is a real winner! It's an ocean-spanning split single featuring Burlington, Vermont's
Smittens
and
The Just Joans
, from Motherwell, Scotland (with love). The two bands have been longtime fans of each other and that mutual love eventually led to this split 7" record with each band covering one of the others' songs as well as an original single of their own! I've had it going since I got ahold of it and let's just say it's a thing of beauty! The Smittens'
superb
and genuinely moving take on The Just Joans' "What Do We Now?" (
which they covered live at this year's NYC Popfest
) is probably my personal standout of the four tracks, but The Just Joans' cover of The Smittens' classic "Gin And Platonic" comes in at a close second, sounding about as arresting as a pop song possibly could. Speaking of which, the chorus of "Gin And Platonic" has always reminded me of The Go-Gos' "Vacation" – am I just crazy?
Anyway, to be clear, every track of this record is frankly the kitten's whiskers, so do yourself a big, big Summer favor and grab this one up post-haste!
You can preorder it right now from WeePOP!
Labels: The Just Joans, The Smittens, WeePOP

Stumble It!