Need Something To Do Tuesday Night?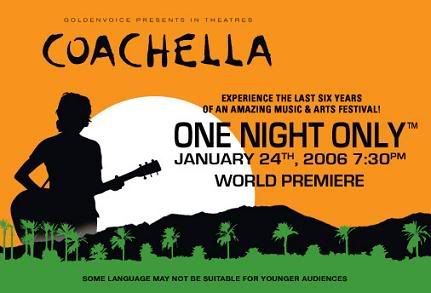 If you dont have any plans for tommorow(Tuesday) evening, I would highly suggest getting off the couch, computer, tramopline, etc, and go see this. It's going to be eventually released on DVD as well, but this might be the only time you'll ever get to see Radiohead or say, The Arcade Fire on the big screen!

Coming to Select Theatres for One Night OnlyTM on Tuesday, January 24th at 7:30 pm - The World Premiere of Coachella - Experience this amazing documentary about the Coachella Valley Music and Arts Festival. This two-hour event will highlight the last six years of the Coachella festival including some electrifying performances from bands such as Morrissey, Radiohead, Red Hot Chili Peppers, The White Stripes, Oasis and the Pixies. Some language may not be suitable for younger audiences.
Click here for a list of theatre locations.

Stumble It!