For The Widows In Paradise
I came across this video today and it made me fall in love with Sufjan all over again. Not to say there was ever a point where I didn't love Sufjan, but let's just say it's been a while since
Illinois
went for a spin. I don't know how many of you have see this, if any, but I'd never heard of it before and this was my first time seeing it. There isn't much to it, but that's the beauty of it. It's just just him on a farm sitting on a fence playing "For The Widows In Paradise" on a banjo. His voice sounds perfect though and the video is pretty high quality, making me think it might be "official," but who knows.
[AVI]:
Sufjan Stevens :: For The Widows In Paradise
Note: Due to the fact that this is a pretty large file I won't be keeping it up THAT long, so get it soon.
Also:

Paper Airplanes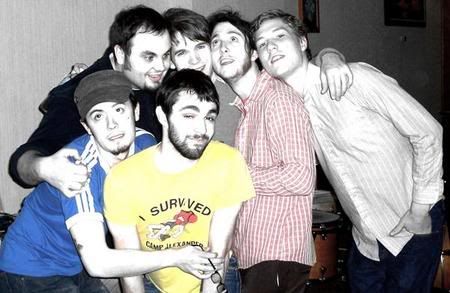 I heard about these guys quite a while ago and I had read some good things about them so I tracked down their Myspace, but when I got to it, it was "temporarily down" so I after that I sorta forgot about them. However, for some reason last night they popped into my head, so I tracked down their Myspace again and this time it was functional and man am I glad I remembered these guys. They're like Built to Spill meets The Arcade Fire with a little awesome mixed in.
Cokemachineglow
says...
This is the way indie-rock is supposed to sound: a jumbled-up rollercoaster of sonic arguments that manage to agree just long enough to remember the chorus. The beginning of "The Fences" evokes a more fantastical Built To Spill before the rough edge of singer Marcus Stoesz's voice begins to reveal itself; while not quite rough enough to compete with any wolf bands, the music of Paper Airplanes is not lacking in weight or heft. What it is, is the work of a band with too many good ideas to let them go to waste.
[MP3]:
Paper Airplanes :: Fences
Also:
New MONO Track
Japanese instrumental post-rock band
MONO
will be releasing their new album
You Are There
on Temporary Residence on April 11th. This song has gotten me even more excited for an album that has already been on my overpopulated "most anticipated in 2006" list for a while now. The song is called "The Flames Beyond the Cold Mountain" and it's the first track from the new album and it's amazing.
[MP3]:
MONO :: The Flames Beyond the Cold Mountain

Stumble It!