About - "Think Niles Drink"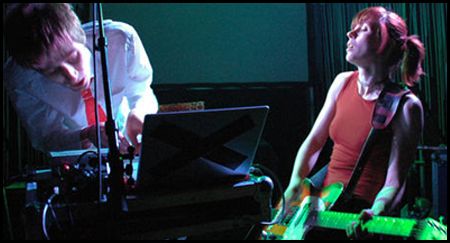 I got an email today about
About
and I haven't come upon too too many great bands through emails lately, but I'd heard things about About being "pop as hell" and an "electronic freak" at the same time, so I decided to give em a listen and I sure am glad I did. Based out of Amsterdam, About is mostly the solo effort of control freak extraordinaire Rutger Hoedemaekers, who walks the line between intricate electronic composions and pop music dynamics creating an irresistable final product.
[MP3]:
About :: Think Niles Drink
The keyboards swell and buzz over distorted guitar riffs as Rutger's painstakingly composed electronics weave in and out of the melody. The vocals go from warm liquid singing to spastic overdriven shouting from one minute to the next wrapping the the instrumentation in glitched out pounding frenzy. A catchy pounding frenzy, that is oddly and unmistakably pop.
Be About's friend on
MySpace
.
About's debut album
Bongo
was released March 15th on Jason Forrest's
Cock Rock Disco
label and you can order it from
Midheaven Mailorder
.

Stumble It!