Start The Car, The Ice Has Come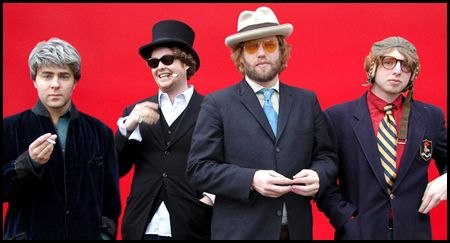 Last year's
Ultimatum
EP was an enticing set-up for
The Long Winters
' very much anticipated upcoming '06 full-length
Putting The Days To Bed
. Not only are The Long Winters very snappy dressers, but they're even better at making songs. I use such a broad term because this band's strength lies in their ability to jump from the catchy and poppy to something warm and lush not only from song to song, but from verse to chorus.
The new album starts off right where the
Ultimatum
EP left off, even grabbing up the title track "Ultimatum" and tacking it on for that extra kick at the end. Unfortunately, most of my favorite moments occur early on in the album with the one-two pop punch of openers "Pushover" and "Fire Island, AK" setting the pace for ultimately fulfilling album for a band that's clearly figured out how to create an album that, despite its wide range of sounds and influences still manages to to perform as a single cohesive entity. Here's the second half of that one-two pop punch from
Putting The Days To Bed
, "Fire Island, AK."
*EDIT*
"Fire Island, AK" is now replaced with "Pushover"
*EDIT*[MP3]:
The Long Winters :: Pushover
Winters' songwriter John Roderick has undoubtedly written one of the catchiest pop songs I've heard all year, what with it's Strokes-esque guitar and catchy choruses. With a title like that, I figured it's gotta have some story behind it, so I checked it out. Apparently, Fire Island is a 4,000-acre island in Alaska which also happens to be a federally protected bird sanctuary. There is currentlythere is a debate on whether or not to place power-generating windmills on Fire Island (Thanks
Wikipedia
!). Unfortunately, unless I'm missing something, the song doesn't seem to have any kind of reference to the actual Fire Island, besides it being the title. Hmm, well, at least "...and I don't have to wonder" will be stuck in your head for weeks, so more power to them.
Putting The Days To Bed
is out on July on
Barsuk Records
. Join their mailing list
here
to be the first to know when you can
preorder
this puppy.
The Long Winters on MySpace
.

Stumble It!