I Felt Myself Overflowing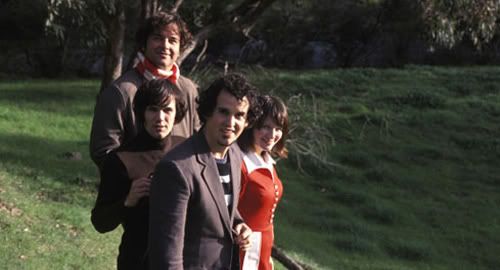 The Bank Holidays
After a bit of a break from guitar pop yesterday, the jangle is back! It has recently occured to me that Australia has been churning out amazingly good indie pop bands the past couple years, and I have just been completely oblivious, until now. Though I still haven't heard more than two songs, I can safely that
The Bank Holidays
are now one of my favorite Australian imports. They make smart indie guitar pop in the vein of bands like The Shins and The Zombies. The band's last two EPs were full to the brim with immediately catchy melodies, full band Beach Boys-esque harmonies, and surprisingly intelligent drumming for a simple indie pop band. But I guess they're really not that simple afterall. Keep your eye on this band.
The Bank Holidays' first two EPs
Good Looks To Camera
and
Day For Night
, released 2004 and 2005, respectively are avaible from
The Lost and Lonesome Recording Co
for $10 each. The band is currently recording their debut full length. This track comes from their first EP,
Good looks To Camera
, and is summery pop bliss.
[MP3]:
The Bank Holidays :: Tread Easy
(Very Rec'd and Stuff!!!)
The song opens with a chorus of ba-ba-ba's that sound like they came right off Pet Sounds. The lyrics have this sort of confident laziness to them that James Mercer had down on
Oh, Inverted World
(but, not so much on
Chutes
) and the guitar melody accentuates them perfectly. The part that still sticks out the most to me are the drums that lead you into the chorus, "snare snare snare, tom tom tom, snare snare snare." it's so simple, yet so deviously clever at the same time and it manages to grab you and make you remember it.
Check out the fantastic video for "Tread Easy"
The Bank Holidays on MySpace
***************************************
You
must must must must
go watch
the video for The Light Footwork's incredible song "The Art of Everyday Communication, Part 1"
because a) the song is amazing, b) the video is great, and c) Becca is a cutie pie. (via
GvB
)

Stumble It!