In Ink Please: "Too Hot There Anyhow"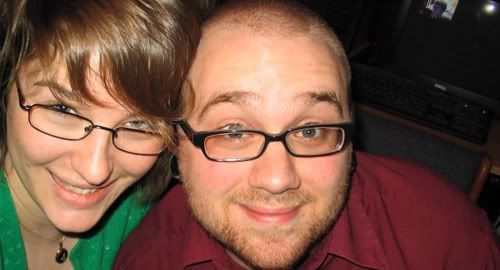 In Ink Please
Like many other bands out there,
In Ink Please
's members are separated by more than a few states. Jerik Hendrickson and Vanessa Palmer originally formed In Ink Please back in 2003 when they were both living in Fargo, North Dakota. But, in 2004 Vanessa moved out to Seattle to go to college and study Chemistry. The duo still made time to get together and write their pretty pop songs and eventually got a deal with Baltimore, MD's
Fall Records
, the first home of Page France. Their second release, a full length titled
Formica Table For Two
will be out soon on Fall Records. I had this track, the third on the upcoming album, on repeat all the way into work this morning.
[MP3]:
In Ink Please :: Too Hot There Anyhow
On
Formica Table For Two
Jerik and Vanessa create warm little pop songs using mostly acoustic guitar and piano, and Vanessa's beauiful voice, of course. I can just picture her peering out of her foggy rain covered window in Seattle singing this lyrics, "You and I have had our differences in the past, but California can we call a temporary truce, so I can see some palm trees and walk the piers, and get myself south enough of here, so I can see some sunshine, for the first time, in a long time."
Ink Ink Please will be on the road through the end of August and most of September. Please go see them.
Tour Dates:
Aug 23 2006 Fantasia Coffeee Bellingham, WA
Aug 24 2006 Teahouse Kuan Yin Seattle, WA
Aug 24 2006 The Mars Bar Seattle, WA
Aug 24 2006 Skylark Cafe and Club Seattle, WA
Aug 25 2006 ABC House Olympia, WA
Aug 26 2006 The Dutch House Portland, OR
Aug 27 2006 The Hideout Redding, CA
Aug 28 2006 1078 Gallery Chico, CA
Aug 29 2006 Sweet Lou's Cotati, CA
Aug 30 2006 Hotel Utah Saloon San Francisco, CA
Aug 31 2006 Mainzer Theater Merced, CA
Sep 1 2006 Jive 'n' Java Fallon, NV
Sep 2 2006 Kilby Court Salt Lake City, UT
Sep 4 2006 The Trunk Space Phoenix, AZ
Sep 5 2006 Burt's Tiki Lounge Albuquerque, NM
Sep 7 2006 The Dusty Bookshelf Manhattan, KS
Sep 8 2006 The Electric Snake Wichita, KS
Sep 9 2006 Radish Infoshop Springfield, MO
Sep 9 2006 Lemmon's Saint Louis, MO
Sep 10 2006 Big Car Gallery Indianapolis, IN
Sep 12 2006 Ottobar Baltimore, MD
Sep 15 2006 House New York City, NY
Sep 17 2006 TBA Detroit, MI
Sep 18 2006 TBA Madison, WI
Sep 19 2006 Courderoy's Espresso Chicago, IL
Sep 20 2006 TBA Des Moines, IA
Sep 21 2006 The Cave Northfield, MN
Sep 22 2006 VFW Fargo, ND
In Ink Please on MySpace

Stumble It!