Jens Lekman @ Pitchfork 7.30.06
Since
Matt
and I are huge fans of pop, we were both equally extremely excited to see
Jens Lekman
on day two more than anyone else. As it turns out our extremely high expectations were more than surpassed and his set ended up being my favorite of the entire festival.
We spent most of day two discussing how to pronounce Jens (turns out it's pronounced "yenz") and Jens' "maidens," as Matt aptly named them, and which one we thought was the cutest and how jealous we were of Jens having the privilege of touring with all six of them. I called dibs on the bassist, but Matt felt the trumpet-playing maiden was far cuter. What do you guys think?
It wasn't all about the maidens though, Jens' songs couldn't have been more perfect for the weather and they had the entire crowd singing and swaying along. As the equation typically always goes, good crowd = good show and that was the case here. Oh and I also took a lot of photos of the bassist, as you'll notice below.
[MP3]:
Jens Lekman :: You Are The Light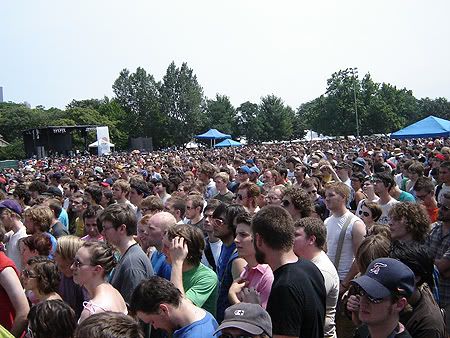 The huge Danielson crowd we had to fight through to go get our sweet sweet spots for Jens.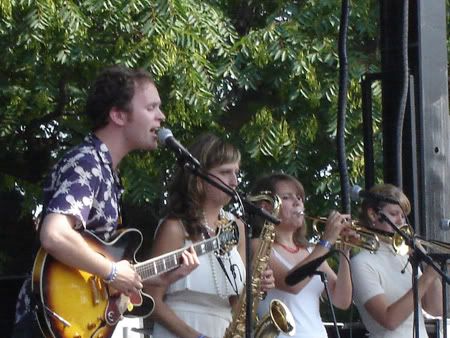 I told you I took a lot of photos of the bassist!
I also took a photo of

Matt

in

Taylor

's sweet shades.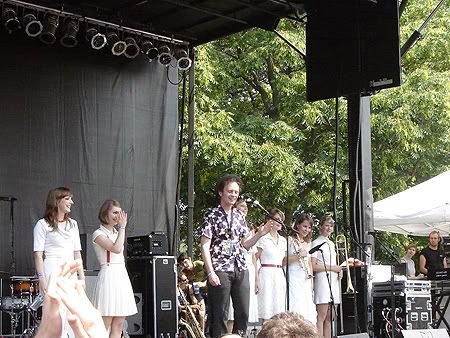 Preparing to bow like the classy and respectable Swedes they are.

Stumble It!