Bryan Scary is Awesome!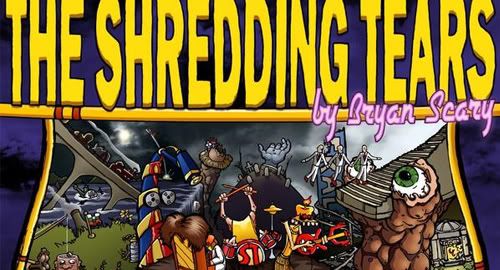 Bryan Scary's
The Shredding Tears
Where the hell did
Bryan Scary
come from? Not that it's very important, but I would have thought that I would have gotten wind a little earlier of a record as good as this coming out. Bryan Scary's
The Shredding Tears
is an amazing prog-pop behemoth of a record. The word epic would be an understatement, as every one of the 15 songs that make up this album are extremely impressive, sweeping songs, as catchy as they are brilliantly imaginative.
Also worth noting is that this all done by one man, the genious Bryan Scary. Bryan played and produced everything on this album but the drums, which were commanded by
Jeremy Black of Apollo Sunshine
. The Shredding Tears will be out on CD/double LP on
Black and Greene Records
on Halloween(October 31st). If you're a fan of Apollo Sunshine, ELO, The Fiery Furnaces, or The Beatles than it is absolutely mandatory that you take note of this album. I could definitely see this album ending on many many year end lists. Check out a couple of my favorite tracks below.
[MP3]:
Bryan Scary :: The Ceiling On The Wall
(HIGHLY REC'D!!!)
[MP3]:
Bryan Scary :: The Blood Club
(HIGHLY REC'D!!!)
Preorder The Shredding Tears from Black and Greene Records
Bryan Scary on MySpace

Stumble It!