Modular: "Playa Biquini"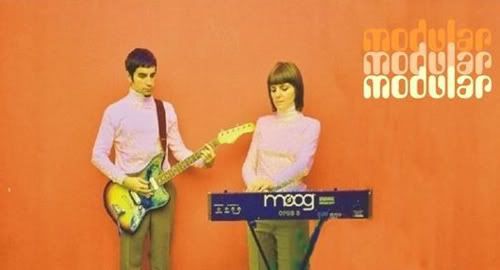 Pablo and Mariana of Modular.
When I think of space age synth pop – cause I really think about it so often – I inevitably think of Stereolab. Thing is, there's plenty more bands out there right now doing this relatively pigeon-holed genre justice; maybe not Stereolab-sized justice, but justice nonetheless. I say this after recently coming upon the Buenos Aires-based band,
Modular
. Named after the legendary Moog Modular analog synthesizer, the band basically sounds like what you would hope: woodwinds, brass, buzzes, beeps, farfisa organ, along with the ever important jangly guitar and moog, for good measure. This track comes from from their 2005 record,
El Triangulo de las Bermudas
. Hope you like!
[MP3]:
Modular :: Playa Biquini
(Highly Recommended)
I'm really not sure how you would buy any of their records, but I assuming your best bet would be to message them
on MySpace
.

Stumble It!