The Pipettes Live On The Album Chart Show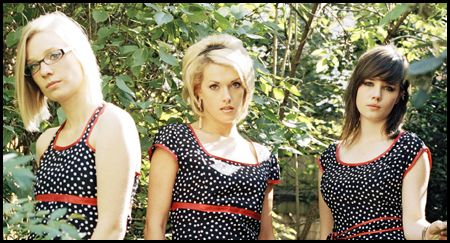 The Pipettes
recently appeared on London's
The Album Chart Show
, which is, as far as I can tell, is a television show along the lines of a scaled-down Top of the Pops. The girls played a short set of "Your Kisses Are Wasted On Me" and "Dirty Mind" and then did a very short interview, literally like, 10 seconds long. The Album Chart Show airs Saturdays at 2pm on Channel 4 and late night on E4(I have no idea what this is, British television is a mystery to me). Here's the show in MP3 format, minus the interview because it's just not even worth posting. I wish they come to the U.S. sometime soon, I've been dying to see them live for the past six months and this just makes it worse.
The Pipettes
Live on The Album Chart Show :: 5/6/06
1.
[MP3]:
Your Kisses Are Wasted On Me
2.
[MP3]:
Dirty Mind
If you haven't quite fallen in love with The Pipettes yet, I highly advise you to check out the music video for "Your Kisses Are Wasted On Me" which you can watch
RIGHT HERE
. As you might notice in the video, Rose (far right in the above picture) is really cute and makes the song even better. We love Rose.
Their debut album We Are The Pipettes is due out July 17th on Memphic Industries, with the release of the album's first single "Pull Shapes" out sometime soon.
Visit
The Pipettes on MySpace
and listen to the fantastic new single "Pull Shapes"!

Stumble It!