Arrah and the Ferns: "Emo Phillips"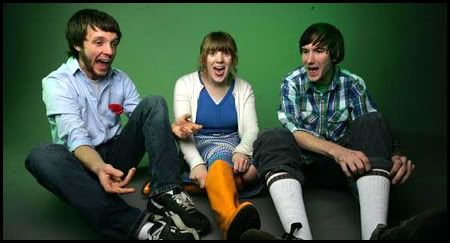 Before I say anything more let me forward this by saying that if you're one of those people that like
banjos and cute indie pop music
, then this might just be the best thing you've heard in a while. The combination of hearing both
Arrah and the Ferns
and The Changes within a day of each other has really put me in an extremely poppy mood and given me hope that pop music will always be the best music. But yknow, this feeling could change within a week. But for now, I'm just going to enjoy it.
Arrah and the Ferns
hail from good ole Muncie, Indiana. Now, I just drove throuhg Indiana a few days ago and I've gotta say, it looks like making music might be one of the four fun things to do there. Just kidding, of course, to all you Indianians. Arrah and the Ferns' new record
Evan is A Vegan
was released this year on the
Standard Recording Companys
, home of
Margot and the Nuclear So and So's
,
Everything Now!
and others. Okay, now here are your simple instructions: 1) listen to this song 2) fall in love with
it
3) buy the record. It's that simple!
[MP3]:
Arrah and the Ferns :: Emo Phillips
(Super Totally Recommended!!)
There is not a second of this song that does not have me grinning ear to ear. Arrah's voice is made to sing this kind of music, it's just so perfect. It's cute, but with just enough sass to pull off the lyrics The lyrics that, well, are awesome in my humble opinion: "OMG he broke up with me, now I hate the world, and I hate you too, she said. OMG, tell me who's that girl, on his myspace, I think I'll kill myself, she said." I dont know about you, but I think they're hilarious. But not ridiculous enough to deem the song cheesy, because actually, it's an extremely catchy and well written pop song, with an unexpected explosion at the end. A pop explosion!
Also download this almost equally awesome track from
Evan is A Vegan
.
[MP3]:
Arrah and the Ferns :: Apple for Evan
(Megareccadactyl!!)
Buy

Evan is A Vegan for only $9!
OMG, like, they're on MySpace

Stumble It!