It's Pronounced "Ees"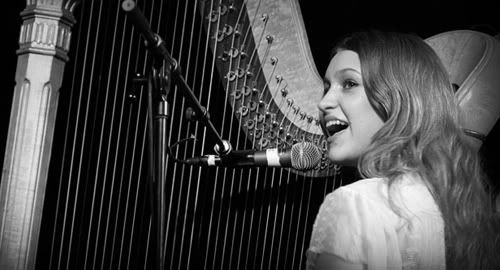 Joanna Newsom
News of
Joanna Newsom
's upcoming album
Ys
has been trickling out slowy, day by day, and now we have even more details to drive us even crazier until it's release, which, by the way, hasn't been confirmed yet (though, it will be out on
Drag City
). If you've been following the Joanna news, you know this: The album will consist of five songs ranging from nine and a half to almost seventeen minutes in length and there's a lot of big production names involved (Van Dyke Parks, Steve Albini & Jim O'Rourke). I think that's all we knew, I think.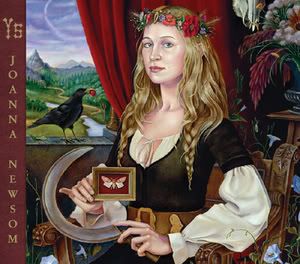 Well the more I hear about the makings of this album, the more I think that I could probably name it one of my favorite albums of the year before ever hearing a second of it.
Ys
is a collaboration of Joanna's voice, her harp, and a full orchestra. Out of the five tracks on the album, only one is "classic" solo Joanna and her harp, with the rest setting Joanna front and center as the sounds of orchestra swell and blow behind her. An impressive amount of instruments went into the making of
Ys
, including: strings, woodwinds, and brass plus dulcimer, marimba, various percussive instruments
(including a horse skull!)
, banjo, mandolin, electric bass guitar (played by master of mellow Lee Sklar), electric guitar (played by jazz-great(-and-definitive-MAD-magazine-authority) Grant Geissman), and accordion played by Van Dyke himself.
The album was mixed and mastered at Abbey Road by the phenomenal Jim O'Rourke using some 40 tracks spread over two synched up 24 track machines. The album's artwork (pictured above) was created by Benjamin Vierling of Grass Valley, CA in old-master style, using layers of egg-tempura and glazes. I can't wait to see this baby on double gatefold vinyl.
The tracklist again is as follows:
1. Emily.............................12:07
2. Monkey & Bear..............09:29
3. Sawdust & Diamonds.....09:54
4. Only Skin.......................16:53
5. Cosmia..........................07:15
This track's been around, I think, but that's probably because it's absolutely amazing. However, "Emily" will sound nothing like this on
Ys
, as it will be fully orchestrated and probably even more incredible. I'm so excited for this album, I still don't even know what to expect!
[MP3]:
Joanna Newsom :: Emily
(live)
Joanna Newsom on MySpace

Stumble It!