Matt & Kim: "Yea Yeah"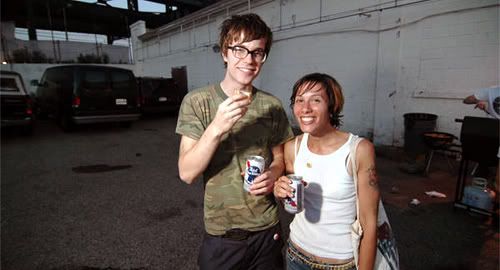 Matt & Kim
I was turned onto the Brooklyn keyboard and drums duo
Matt & Kim
the other day after repeatedly hearing of their amazing-ness from a couple friends who couldn't seem to stop singing their praises. Apparently their live show is NOT TO BE MISSED, however, I had to miss it tonight due to work. In reparation for missing the show, I figured I'd let you guys in on their super-fun sounds. Their new self-titled album October 24th
AND YOU CAN TOTALLY PREORDER IT HERE
. This song... I don't even know what to say about this song other than it's now the official Skatterbrain approved danceparty song of the year.
[MP3]:
Matt & Kim :: Yea Yeah
(OMG So Recommended!!!)
At first you might say, "Oh, so they're like another Mates of Sate, right?" Wrong. Matt & Kim pull a million times more energy and passion out of their instruments than those two Barsuk lovebirds could ever dream of. This song, "Yea Yeah," had me hooked within the first few seconds, but it really hits when the crash comes in on the chorus and their two voices manage sound like a chorus of sweaty kids all yelling "yea yeah yea yeah yeah yeah yeah" over and over again, you'll start to feel something magical. If you don't even have the slightest desire to get up and just jump around to this song than I'm really sorry you have to live that way.
Watch the video for their song "5k"!
Matt & Kim on MySpace

Stumble It!