Apples In Stereo @ The Black Cat 10/30/06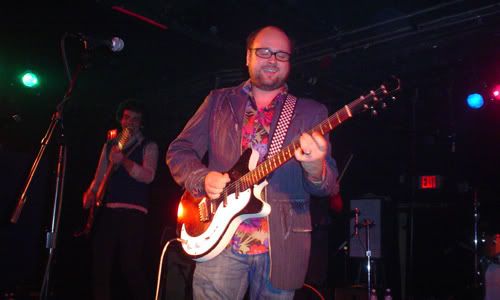 Robert looking incredibly sexy as always.
When we walked up to the
Black Cat
Monday night we were met with a very strange situation. We went a little bit early because we didnt have tickets yet and we didn't wan't to take any chances. Well, when we got there there was already a line down and around the corner. Now, I was under the assumption that the Apples have a pretty solid fan base, so we shrugged it off, got in line and complained for a while. Also strange was that there was a very high percentage of "Dad" in the line. That doesn't stand for anything, there were just a lot of Dads in the line, and I found it to be somewhat peculiar.
Some dude's hair totally ruined the lower left corner of this photo.
Well eventually I turn around to the guy behind us and I'm like, "This is the line for
Apples In Stereo
, right?" and the dude's all like "Nahhhh bro, this is for the secret Beck show." Secret Beck show?! What the hell? Turns out he wasn't lying, but we still wen't to see the Apples instead. That turned out to be a very good choice, as Robert and the boys were awesomely awesome in every way possible. Even better, they played a bunch of new songs, including "Energy" (Yesssssss). This show was also their very first with new drummer John Dufilho of The Deathray Davies. He seemed to fit in perfectly and had all the songs down, I think he'll work out just fine. In addition to that, they were also joined on stage by keyboardist/vocalist John Ferguson (Ulysses, Big Fresh) and Elephant 6 co-founder Bill Doss (Oliver Tremor Control, Sunshine Fix). So yeah, it was totally fantastic.
[MP3]:
The Apples In Stereo :: Please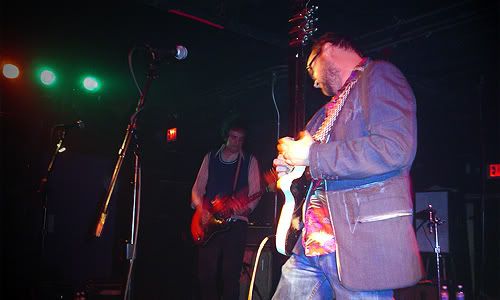 He eventually lost the jacket and rocked out Hawaiian style.
Setlist:
Rainbow
Can You feel It? (NEW)
Same Old Drag (NEW)
What's The #?
Skyway (NEW)
Energy (NEW)
Please
Play Tough (NEW)
Defiant Dynasty
7 Stars (NEW)
Do You Understand?
Go!
Sun Is Out (NEW)
Open Eyes (NEW)
Ruby
Strawberryfire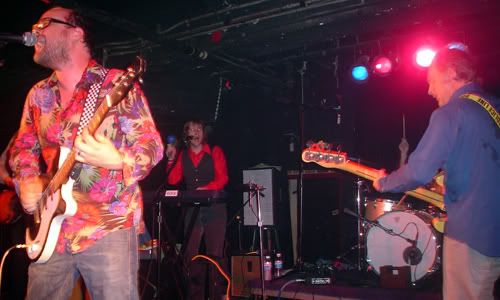 Look how hot and sexy that bass drum is.
The Apples in Stereo on MySpace

Stumble It!