Lullabye Arkestra: "Unite!!!!!!!!!!!!!!!!!!"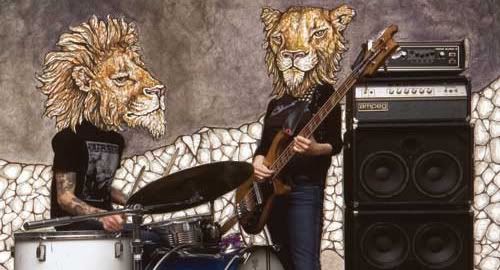 Toronto's Lullabye Arkestra
One of
Constellation
's newer signees,
Lullabye Arkestra
, are a bass and drum duo who've been playing and self-releasing glorious slabs of distorto-soul for several years. They've finally recently released their debut Constellation release,
Ampgrave
. The title alone suggests that this hardly something I'd typically find myself listening to, but I must say, it's been hard to put down. I really can't even begin to say how awesome it is, but I'm pretty sure this track does it justice.
[MP3]:
Lullabye Arkestra :: Unite!!!!!!!!!!!!!!!!!!
(HIGHEST REC!!!)
This song opens up quietly, feeling like perhaps something out of Godspeed You! Black Emperor's catalogue, but it quickly gives way to a throbbing bass driven cacaphony (definitely don't get to use this word enough) which in turn eventually gives way to a chorus of angsty voices shouting "Gentle hearts will win the fight!" over another bass, horn, and drum freakout. This is the defintition of anthematic.
Buy Ampgrave on CD or LP from Cnstellation

Stumble It!