My Three Songs: Week #1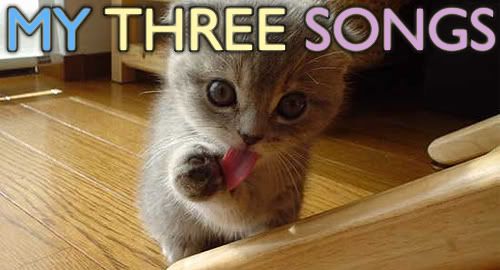 I originally had a
My Three Sons
image, but my instinct told me to change it to a cute kitten at the last minute.
If you've been around this cozy little space of internet long enough, you've probably noticed by now that I like to come up with neat weekly feature ideas. They pretty much never stick and I just forget about them eventually. I'm going to try my best to stay on top of this one if only to be able see that kitten every week.
My Three Songs is a totally awesome small collection of my three most played, favorite, whatever-you-want-call-them songs of the week. This is an attempt to shine a bit more light on my personal tastes and to let you in on what we're
really
listening to. These songs probably won't ever have a centralized theme, and while they may sometimes be new, it's likely that they typically won't be. Here are My Three Songs. xoxoxo.
[MP3]:
Tiger Trap :: Words and Smiles
I hadn't listened to this song for a while and then about a week or so ago, my good pal K.B. (
The Up Set
) covered it and after revisiting it again I haven't been able to get it out of my head. Tiger Trap, as some of you may know, is one of the many bands the amazing Rose Melberg was at one point involved in. Save for a few fantastic Go Sailor tracks, I think Tiger Trap yielded most of the best songs of her career. This song is also holds one of cutest choruses ever. "I won't tell you, but if you only knew. Words and smiles and we're like a dream come true."
[MP3]:
Postal Blue :: Weather Sensitive
Since I heard Postal Blue for the first time last Fall, they've always been one of my go-to morning drive bands. Their songs just have this extremely soft and delicate feel to them, with lyrics and vocals along lines of Belle and Sebastian. If songs were paintings then this would be what you would get after painting a light coat of white over someRocketship.
[MP3]:
Frog Eyes :: Masticated Outboard Motors
Like I said above, these songs will likely never have a centralized theme. We had a bit of a theme going there for a little bit, but I'm pretty sure Frog Eyes doesn't really have much in common with twee-pop. This song however is absolutely incredible. The tension in the vocals paired, the creepy shaking guitar, and the way the lyric "anyone who is for the disconnective gestures of the frontline blue blood pedlars" is spun off. It's just...wow.
Okay well I think that went well. I hope you like these songs as much as I do and um, I guess I hope I remember to keep doing this, it was kinda fun. Have a nice friday and stuff. If you want to know more about these bands, I would suggest typing their name in Google.

Stumble It!