All My Summer Songs No. 3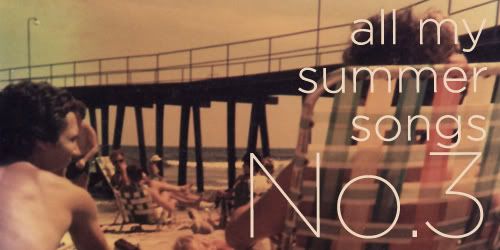 That Summer Feeling!
No. 2
[MP3]:
Friends :: You'll Never See That Summertime Again
Submitted by Krister Bladh
"I had a very difficult time choosing a song, because I realised there are many songs that I associate closely with summer. Even though I made a summer mix earlier in the year (before heading to the New Zealand summer!) I thought I should choose something new that I'd heard since then. But then I thought some more about it, and if there's one song I'd really like to see on that mixtape (even though most of you have heard it, I hope) it's this song by Friends. It was the first Friends tune I heard, as it leads off vol 2 of The Sound of Leamington Spa. It just floored me and was very important for me in that summer of 2006. It's one of few songs that make me feel nostalgic, just like Richmans "That Summer Feeling" does. It lead me to purchase my first Friends LP (Songs Without Tears) and now three years later, believe it or not, I'm going to see them at Indietracks!"
I hadn't heard this song until Kris sent it to me, and now that I've listened to it several times over, I can totally see it becoming a fast favorite. I hope you guys like it! If you do, thank Kris! Remember, if you've got a song and something to say about it, please do send it in! 83in05 [at] gmail [dot] com.
Labels: All My Summer Songs, Friends

Stumble It!