Sushi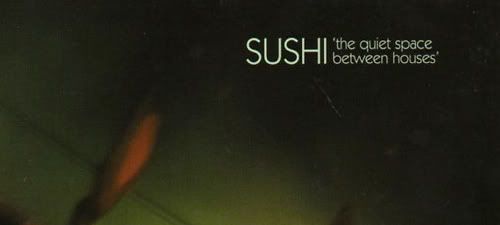 Better than cold fish.
Sushi were a six-piece Bay area pop band with an all too short lifespan. They released an EP on Swingset Records in 1999 (which I've never heard) and an album on Shelflife in 2000 titled
The Quiet Space Between Houses
, along with a couple comp appearances. Later in 2000 they called it quits, but core members Jeff and Jared started a new band called The History of Utah. They supposedly had a single slated for Shelflife, but to my knowledge that never saw the light of day. I wonder if it was ever recorded? As for Sushi, have a listen – especially if smooth, jazzy indiepop is your cup of tea. This song comes from
The Quiet Space Between Houses
, which you can actually still buy from the
Shelflife Shop
– though it's almost gone!
[MP3]:
Sushi :: Strip Mall Breed
(Highly Recommended!)
Labels: Shelflife Records, Sushi

Stumble It!