New Grenada - "Emergency Brigade"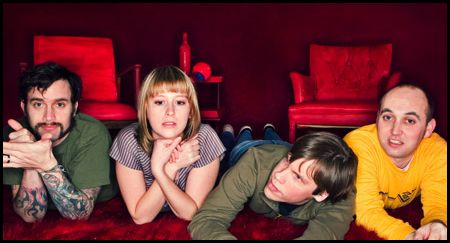 When springtime comes around I tend to listen to nothing but fast indie pop, preferably with famale vocals involved. As you may or may not have noticed by now, I am a really big fan of female vocals, especially spastic shouty ones and that's why I love
New Grenada
. Last year's
Parting Shots
(
Asaurus
, 2005) was full of pulsing keyboards, soaring guitars, freak beat drums and of course, overdriven shouty female vocals! While they may not be on Asaurus anymore, their new album
Modern Problems
, recorded by Steve Albini, is the culminating effort of a band fully realizing their sound and promise.
Modern Problems
will be released June 13th on
Contraphonic Records
.
[MP3]:
New Grenada :: Emergency Brigade
"Emergency Brigade" is the first track off of
Modern Problems
and is the perfect lead off song, setting the fast pace for the rest of the album. The beeping synth line throughotut he song keeps it fun and poppy as John sings in a shrill distorted voice, until the end when the chaotic vocals are juxtaposed with Nicole's bright shouted vocals, of which are pretty much incoherant. The kids will be dancing to this song all summer, for sure.
Preorder
Modern Problems
from Contraphonic!

Stumble It!