Some Things Of Tuesday Interest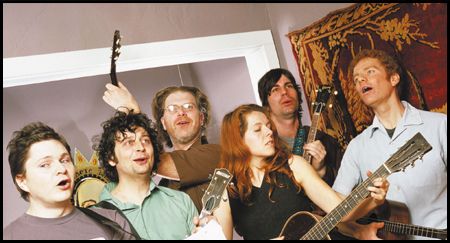 I broke out
The New Pornographers
classic album
Mass Romantic
this morning on my drive to what turned out to be probably the most dreadful of three exams which I'll be taking within the next three days. Anyway, I haven't heard this song in a while and I've pretty much had it on repeat all morning. Ezarchive is now done being lame, please enjoy this lovely direct link.
[MP3]:
The New Pornographers :: Breakin' The Law
There's another New Pornos song from this very same album that will make an appearance on the Summer Drive Mixtape Project sometime soon, although now that I think of it, this one could've easily made it too. If you've heard this song, you will likely agree with me that this is one of the finest album closers ever crafted. The group singing, almost anthem style, at the end of the track is just so uplifting. Having a crummy day? Play this sucker and the clouds will open up and shower you with sunshine.
On an unrelated note
, today also happens to be new release tuesday! I think the best thing hitting the streets today will be Danielson's Ships. Danielson has got a big Summer ahead of them including: a MASSIVE U.S. tour, the release of not only Ships, but also three limited edition EPs available from Kill Rock Stars, Anticon, and Sounds Familyre, and a few extra screenings of "Danielson: A Family Movie." For details on tour dates, where to buy records, or where to can catch the movie, visit
www.danielson.info
. Here's a phenomenal track from Ships that you've probably already heard.
[MP3]:
Danielson :: Did I Step On Your Trumpet?
Danielson Headquarters on MySpace
.

Stumble It!