Mogwai Live on BBC Radio 1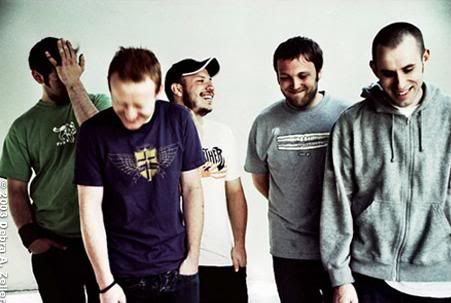 This show is from January 31st on the
OneMusic with Huw Stephens 1st Birthday Show
.
Mogwai
have performed on BBC Radio countless times and were very close to John Peel, and eventually were asked to perform on his tribute show. With the release of Mogwai's new album Mr. Beast right around the corner they have been unvieling new songs songs all over the place and this set is no exception. This nine song(eight tracks) set features six new songs! The highlight of this show, for me at least, is the last two songs. Listen to how seamlessly "Hunted By A Freak" flows right into "Mogwai Fear Satan," it's like they were written as one song!
[RAR]:
Mogwai :: OneMusic with Huw Stephens 1st Bithday Show
(43 mb)
Setlist:
1. Friend of the Night
2. Glassgow Mega-Snake
3. Summer
4. Acid Food
5. Folk Death 95
6. Travel Is Dangerous
7. We're No Here
8. Hunted By A Freak/Mogwai Fear Satan
Incase you haven't noticed lately, I have been putting things up and taking them down much quicker than I used to, as I've been posting more often. Until I get more webspace I apologize, but hey, that just means you should read the blog daily and you won't miss anything.
Speaking of Radio1 sessions,
Matt has a Two Gallants session
with Steve Lamacq on BBC Radio 1 that includes a brand new track that's not on the album! Matt was also on TV! Give him a pat on the back.

Stumble It!