Swimsuit!!!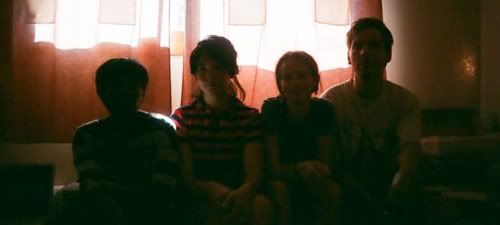 Ypsilanti's own, Swimsuit!
Not since getting ahold of the Weed Hounds demo last year, have I been so excited and blown away by the first listen of demo. The band is
Swimsuit
and they're from Ypsilanti, MI! They're relatively fresh out of the over and are not to be slept on! Fred Thomas of the amazing, incredible, best ever Saturday Looks Good To Me teamed up with friends Shelley, Dina (of Secret Twins), and Amber to form Swimsuit back sometime around the beginning of the year. They've since released a Demo EP,
Life Like
, and since hearing it, oh, just about an hour ago, I've fallen madly in love. The melodies are surfy and as catchy as I could have hoped for (and frankly I do believe I could have guessed Fred was involved even if no one told me). The vocals, which I believe come from Dina — who lent her vocal chords to Stuart Murdoch's God Help The Girl project — are also pretty to die for. Listen to "Evaporation" below! If you love it as much as I do you'll definitely want to download the
Life Like
HERE
.
[MP3]:
Swimsuit :: Evaporation
(SO, SO Rec'd!)
Swimsuit on MySpace!
Labels: Saturday Looks Good To Me, Swimsuit

Stumble It!