Tigerella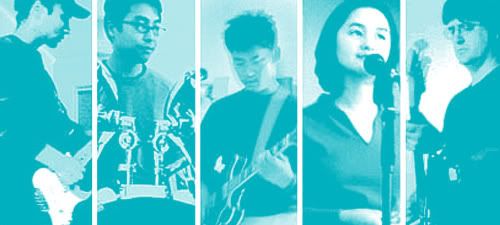 Tigerella
Tigerella were a L.A.-based five-piece indiepop band active during the early 2000s. They played catchy songs with a sound not too far from that of perhaps Velocity Girl – thanks mostly in part to the at-times noisy guitars and lead singer Yvonne's sweet, yet powerful vocals. They released the
Existential War
EP of
Shelflife
's CDr Series in 2003 and followed up with a full-length on Schmat Records later that same year. In the years following, they began to dwindle and by they end of 2004 they seemed to be done for good, but don't hold me to that. I've yet to hear their LP, but the three songs on the EP sound just great to me. Listen to "E-Ticket Ride", it sports some pretty twinkling lead guitar and even nicer alternating vocals.
[MP3]:
Tigerella :: E-Ticket Ride
(Highly Recommended!)
Labels: Schmat Records, Shelflife Records, Tigerella, Velocity Girl

Stumble It!