The Raveonettes on Live Daily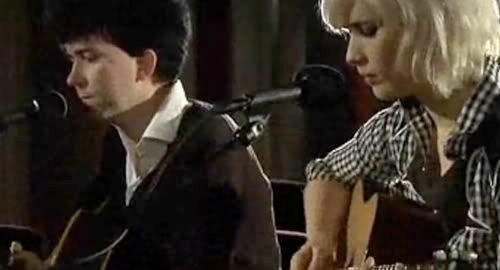 Sune Rose Wagnor and the lovely Sharin Foo
More Raveonettes!!! Sune and Sharin recently recorded a small session for
LiveDaily
at their LA studio. The two of them played some excellent acoustic versions of a few songs from
Lust Lust Lust
; including: "Dead Sound," "Aly, Walk With Me," and "Lust." I posted a video of them playing an acoustic "Dead Sound" for the Black Cab Sessions, but this one is far better because they're actually both playing this time around.
You can watch all three of the videos
HERE
!
The Raveonettes on MySpace
ALSO:
The Manhattan Love Suicides have a new song streaming on
their MySpace
right now!!!! It's called "Heat and Panic" and it'll be on their upcoming "Clusterfuck" EP, due out on Squirrel Records in the UK sometime soon. If you happen to be in the UK, you're a very lucky person, because
the MLS have a bunch of shows coming up with The Pains of Being Pure at Heart!
Please go for me.
Labels: LiveDaily, Manhattan Love Suicides, The Pains Of being Pure At Heart, The Raveonettes

Stumble It!