Leach Me Lemonade!!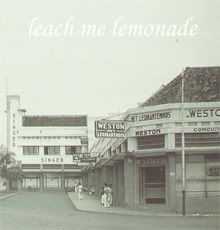 I found
Leach Me Lemonade
on MySpace a few days ago, only to find out today that they're actually going to be part of a new
Cloudberry
compilation! How fun! They're a four piece hailing from Bandung, Indonesia and they're absolutely
nailing
the dreamy indiepop sound that I love so much. Not surprising though, as it seems Indonesia has become the worldwide hotspot of some sort of Sarah-sound revival as of late. They've only got 81 views on MySpace right now, so you should head over and listen to "Shine of Your Smiles" and make friends with them!!!
The Cloudberry comp "I Would Hurt You for the World - The Sound of Young Java Vol.1" will be out September 1st and in addition to Leach Me Lemonade, it also features the lovely sounds of Arch of Cinema, Sunny Summer Day, and Funny Little Dream.
Leach Me Lemonade on MySpace!
Labels: Cloudberry, Leach Me Lemonade

Stumble It!